Travel is my passion and my primary hobby – I am constantly revising my bucket list and planning my next adventure! My trip to Peru (October 2017) was an incredible experience and exceeded all my expectations! My awesome husband, who (fortunately for me) supports my wanderlust spirit, accompanied me on the adventure. Research revealed that a person in average physical condition would be fine on the trek …. so, I stepped up the workouts a bit :). My primary concern was the altitude – not really possible to train for that in Dallas, Texas. Let me stress here, we are not hikers – just decided to do this! I wanted to experience the views, see Machu Picchu and prove that i could make the 26 mile trek!
The Adventure Begins in Lima!
We started our Peruvian adventure in Lima! Our hotel (arranged by G Adventures, the La Castellana) was in a great part of the city – very walkable to everything, food – culture – and the Pacific ocean! Still at Sea Level in Lima – we had a full day to enjoy the sites, a few Pisco Sours and some delicious Ceviche before meeting with a local G Adventures rep for the welcome briefing.
On to Cusco!
We were up VERY early the following morning for a quick 1 1/2 hour flight over the mountains to Cusco – where the altitude increased to just over 11k feet (we began our acclimation and started drinking Coca tea and lots of bottled water). We got acquainted with Cusco via a guided Orientation walk with a G Adventures rep – who also recommended and accompanied us to Ima Sumaq Restaurant for a fantastic lunch (delicious local cuisine)! Note: Some menu items disturbed me (guinea pig????) – but the salmon was amazing! There was a Trail Briefing after lunch where we learned more about what we would encounter along the trek and rented sleeping bags, etc. Note here – get the trekking poles! Not being hikers, we declined (thinking it would just be something else to carry) … turns out, they would have been REALLY helpful, especially when descending! I knew from previous research that there were strict limits on what could be carried on the 4 day hike (5-6 pounds of personal items – not including what we carried in day packs). However, the briefing made it all very "real" – you cannot take much!!
Sadly, I must add a warning here about Cusco, primarily when out after dark: keep items at your fingertips, there are pickpockets at work. Luckily, we only lost an older model cell phone (easy to shut down and erase), but definitely keep an eye on valuables. In spite of this experience, Cusco is still a beautiful city – full of so much history and culture.
Ollantaytambo
Before departing for Ollantaytambo, we met the other 14 members of our Inca Trail hiking group (of 16) – hopefully all tours are so awesome! The individuals were from all over the world (USA, Europe and Australia). The adventure continued with a tour of the Sacred Valley. We started with a visit to the Women's weaving co-op where we met the women who produce the beautiful products they offer. They were SO nice and demonstrated traditional dying and weaving techniques, I now own a few scarves :).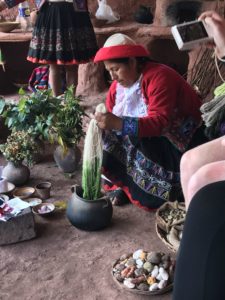 G Adventures supports this small business venture which has impacted the community. They also support the Parwa community restaurant in Huchuy Qosco where we enjoyed a fantastic lunch! We warmed up our climbing legs with a tours of the Pisac ruins and Ollantaytambo ruins! We spent the night at a motel on the edge of Ollantaytambo (admittedly the very edge) and walked into the small town for dinner – then early to bed (Inca Trail tomorrow!!!!).
Inca Trail!
Up early again and we took a small bus/van to KM 82 – the start of the Inca Trail, the hike/trek began! We met our spectacular porters (seriously, they were the BEST!). Supplies were packed for the hike, then down the hill we went to check in with passports and permits (permits are very limited) and we were off – OMG!!! It was a bit like the point of no return (once you start it's 4 days / 3 nights on the trail) – I cannot accurately describe the feeling, it was so life changing spectacular!  The first day on the trail was about 8 miles – an excellent preparation for day 2 …..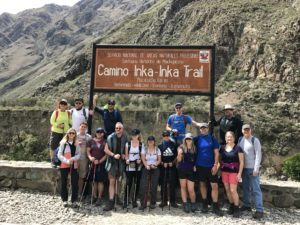 The next day took us to the highest altitude we would experience  (Dead Woman's Pass @ 13,828 ft. – what??? :). Not going to lie, the altitude was a challenge! I hiked with a fabulous group who were also there to observe the incredible views and therefore stopped regularly enough to allow oxygen to reach important areas (i.e. lungs, muscles, etc.)! I dubbed us "The Rockers" … since our motto was – "there's a good sitting rock!" :). The feeling I had when reaching the peak – unforgettable! The weather was interesting too – changing from warm blazing sun to cloud forest and cold winds.
The Inca Trail really should be called the Inca stairs – most of the trail is ascending or descending, on rocks – rocks that 'loosely' resemble stairs. It was nothing like what I expected – but was SO incredible! Camping along the trail was easy, in that the incredible porters set up and took down the tents each night (and even woke us each morning with a warm cup of tea) – but, sleeping was not exactly comfortable :). Still, the experience was awesome! Those spectacular porters produced delicious 3 course meals … in a dining tent … along the trail, at the end we even had a cake!! No idea how they pulled it off, but they were sincerely top notch!!! On day 4, we hiked up to Sun Gate, then on to Machu Picchu. After exploring the famous ruins, we took a bus down to town and celebrated our accomplishment with a delicious lunch. After lunch, a domed trained ride back to Ollantaytambo provided picturesque views of the mountains and much needed rest for our legs :). We returned to Cusco by bus and I was finally able to shower (the first in 4 days)!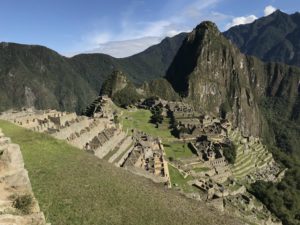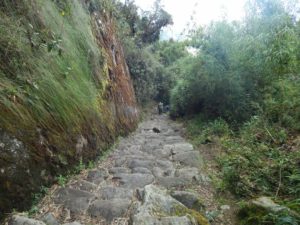 What a fantastic adventure!!
https://seatheworldvacations.com/wp-content/uploads/IMG_6927.jpg
2250
3000
Gina
https://seatheworldvacations.com/wp-content/uploads/Logo-Sea-the-World-Vacations-web-01-300x111.png
Gina
2018-01-01 23:31:35
2018-01-01 23:31:35
Hiking the Inca Trail - Peru Adventures