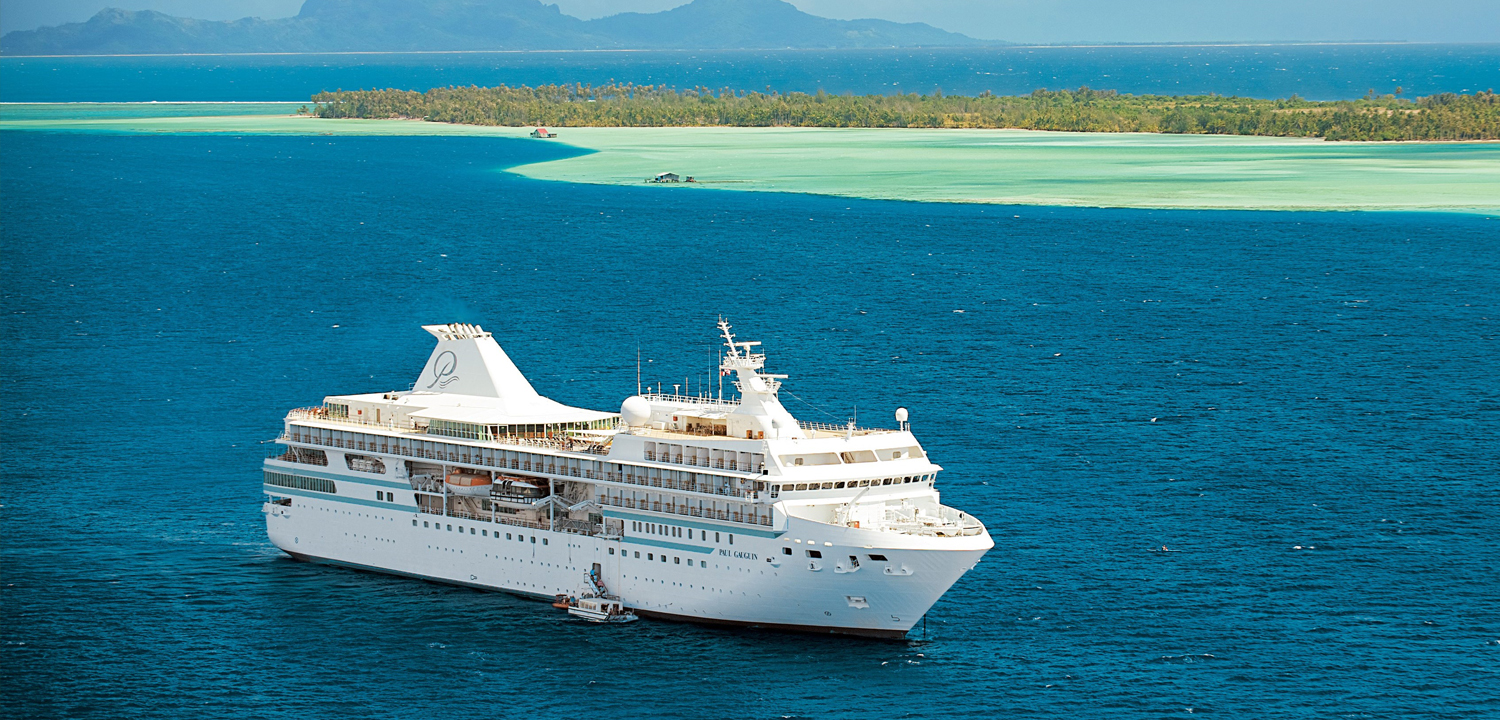 4. Paul Gauguin – Cook Islands & Society Islands on the m/s Paul Gauguin
Immerse yourself in luxury and spectacular beauty above and below the waves! The Gauguin's small size allows her to maneuver from deep seas to shallow lagoons as nimbly as a yacht.
This 11-night odyssey showcases the region's incredible diversity of scenery, from Aitutaki's low-lying islands to the jagged peaks and deep valleys of fertile Rarotonga, which was simply called "Paradise" by the first European explorers. The islands of Polynesia are a gorgeous collection of volcanic atolls strewn across the grand Pacific Ocean; the island of Tahiti is the largest of all 118. Explore the dynamic dining, nightlife and shopping in the capital city of Papeete before embarking on a fantastic adventure.
Continue to the Society Islands to delight in the South Pacific's finest offerings – Bora Bora, Taha'a, Huahine and Moorea. While in the Cook Islands, call upon Aitutaki, a tiny island that is home to one of the world's most spectacular lagoons. Spend a  relaxing day on Motu  Mahana, Paul Gauguin's very own private islet, complete with white sand beaches, swaying palm trees, a barbecue lunch, drinks served in coconuts and a floating lagoon bar. The waters around Moorea are home to an amazing array of sea creatures. In Bora Bora, experience stunning views of Mount Otemanu.
Paul Gauguin cruises offer a variety of luxurious amenities and unique activities. Throughout your journey enjoy spectacular dining, a luxury spa, Scuba (an optional Scuba certification program is available), Snorkeling, Watersports (such as kayaking, paddleboarding, volleyball) and a featured guest host. Optional packages are available for honeymoons, vow renewals, anniversaries and other special occasions.